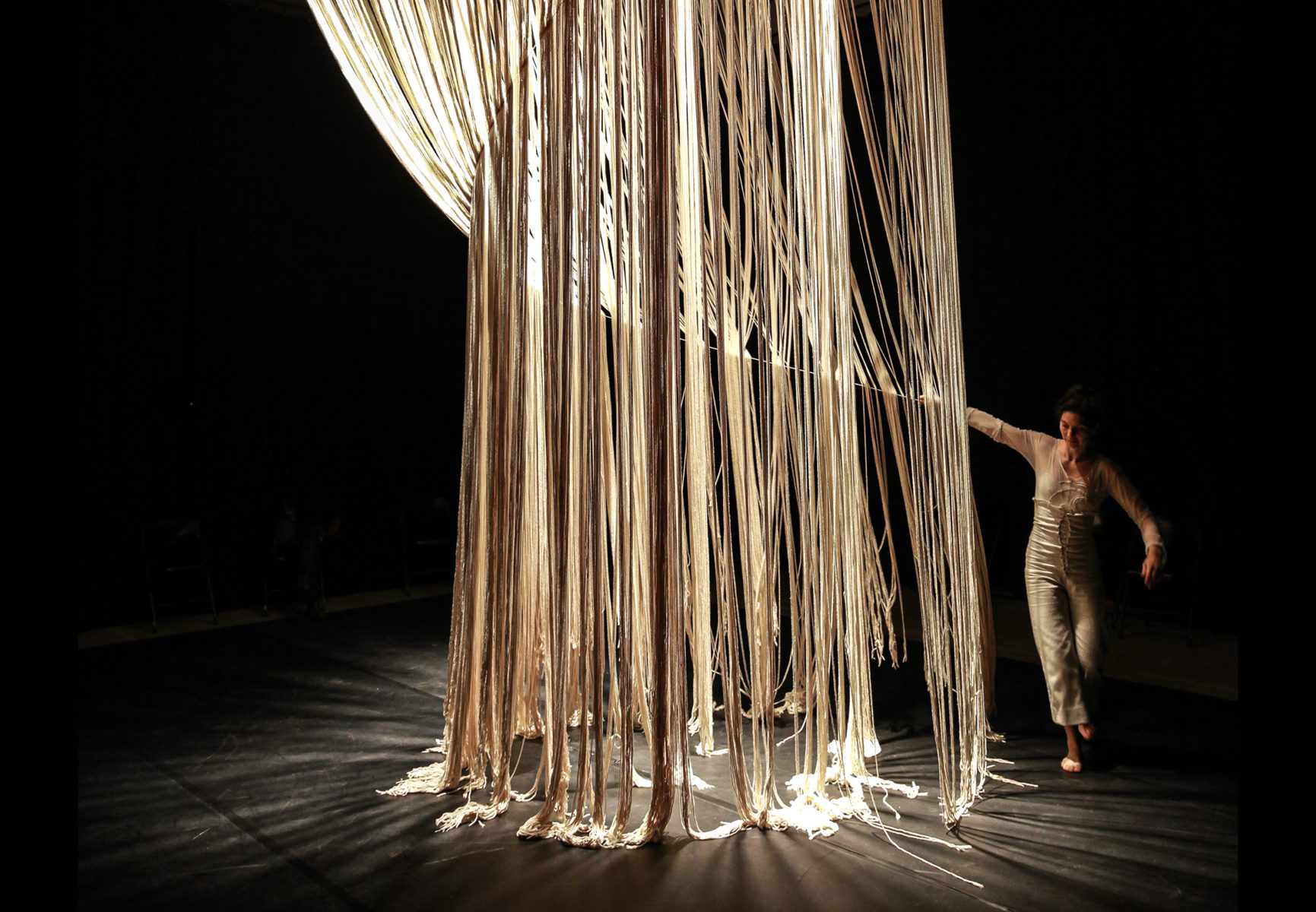 Fileuse - Creation 2015
« Fileuse » (« Spinner ») is an aerial and poetic solo performance that unfolds in sound and space, like a vertical intimate diary. Suspended within an astonishing structure made of thousands of fine cotton strings, the acrobat's movements evoke the passage of time, the cycles of life, and the close relationship we have with our bodies.
Her breath is amplified and processed, using her body as a musical instrument which becomes part of the electro-acoustic score by Wilfried Wendling, which also includes the vibrant words of the poet Laurence Vielle. This accompaniment envelops the audience and inhabits the movement, creating multiple resonances between the performer, the audience, the space, and the imagination, blurring the boundaries between what's inside and outside.
« Fileuse » can be viewed as a performance, but its monumental self-sustaining structure can also be experienced by itself as a spatial and sound installation. It resonates in different ways in relation to its surroundings, whether in theaters, urban spaces, outdoors, or other unusual environments.
Technical details
Duration 35 min
Age  For all audiences
Places Indoor, outdoor, non dedicated places
Artistic team
Aerial dancer / direction
Cécile Mont-Reynaud
Texts
Laurence Vielle
Musical composition / sound design
Wilfried Wendling
Set design / rig
Gilles Fer
Lights
Annie Leuridan
Sound engineer
Thomas Mirgaine
Costume
Mélanie Clénet
Artistic collaborations
Volodia Lesluin, Yumi Fujitani, Anne Rouquès
Coproductions et soutiens